It's been a busy week here at the Diamond residence.
Dima
and I weren't very productive (we were celebrating Sukkot, after all!) but we did participate passively in the intense, crowded and overall
ecstatic
festivities known as "
The United Nations General Assembly"
, which some fondly (?) call the UNGA, though I prefer the sexy nick "
The G-Ass
".
You can read all about the G-Ass events here. What I add is is that since The UN and moi share a block, my street was barricaded like the Pentagon, including about a zillion
police men/women/not-gender-associated that patrolled the area or blocked anyone from entering (I had to present an id to go to my place, which obvs I always forgot to carry).
Mix into this hot mess
diplomatic peeps from 192 GA countries, mega demonstrations around the clock (the Egyptians and Syrians won my annual "Loud-and-Proud" award for bringing down the house), journalists, tourists, this dude below... you get the picture.
I'm not complaining (no?) but I do have to say that I believe

the G-Ass is a pretty useless ordeal

. It always reminds me of a Bar Mitzvah or a Sweet sixteen party: everyone knows that we're here to celebrate the beginning of... Something, but in reality it boils down to a group of unattractive puberty-challenged adults (who don't fully master the art of tie-tying)
wasting time, money and energy by listening to who-cares
speeches,
posing for
embarrassing
sweaty group photos and plotting how to get the most out of the free food situation. Am I right or am I right?
At least we had Obama coming in on Tuesday (Sept. 24). he always know how to bring the ★, it felt like Britney popped in. I do wish that next time he will stop at my place for some scones dipped in gossips, it will be super for sure.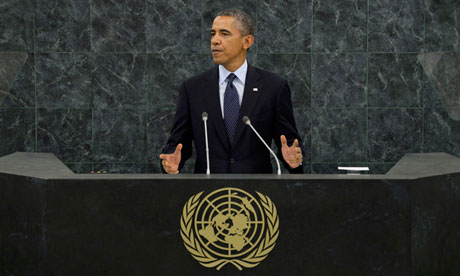 What a mensch!
To conclude, here a few more pics that I've snapped during the
apocalypse (taken from Nimdvir Instagram).
See you next year, worldly friends!